The following are some resources for collegiate officiating.
Rules Publications/Updates
NCAA Officials Registration Opens September 1, 2015
NCAA Coaching During Injury and Concussion Interpretations
2016 NCAA Rule Changes Approved
New NCAA Signals Chart, Adds Unnecessary Roughness.
NCAA Recommends Rules for Concussion Protection
The Art of Officiating Collegiate Wrestling Written by veteren NCAA Finals Official, Jim Ramirez. First book on wrestling officiating. Very helpful with a lot of good techniques.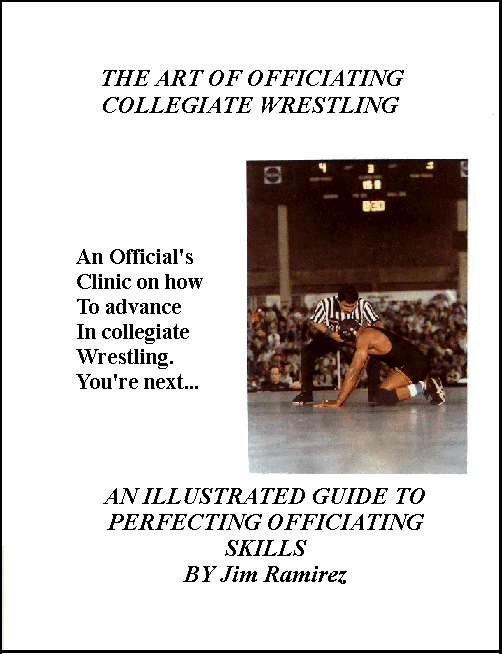 High School and College Rules Differences (2014-15)
2012-13 Tough Calls Video (Added September 14, 2012)
Mike McCormick Clarifies New Stalling Points Video (added January 3, 2012)
Dr. Pat McCormick Discusses Assigning Officials at NCAA D-III Championships
College vs. High School In-Bounds Differences (Updated November 14, 2013)
Random Draw Kit (updated July 22, 2013)
Interview with Bob Bubb, Chair of the NCAA Rules Committee
NCAA Table Worker Instructions
NCAA Division I Wrestling Committee
Officiating the NCAA Tournament (DIII-DI) by Fred Feeney
Officiating the Midlands by Fred Feeney
Officiating the National Duals by Fred Feeney
Officiating the Cliff Keen Invitational by Fred Feeney
Article about NCAA Official, Fred Ambrose
Article about NCAA Tournament Officials
NCAA Division I Wrestling Schools
NCAA Division II Wrestling Schools
NCAA Division III Wrestling Schools